5 Things You Need to Know About Carly Furlonger
5 Things You Need to Know About Carly Furlonger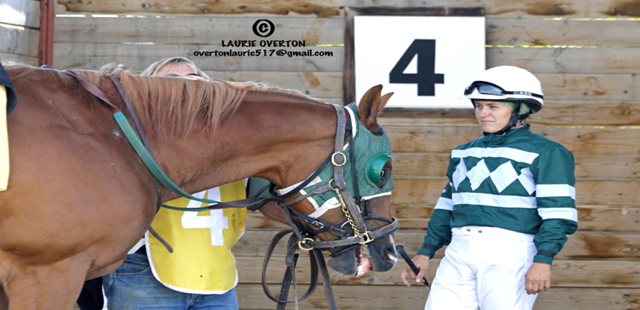 Carly Furlonger is one of the top riders at Ajax Downs and was the regular rider of the 2015 Horse of the Year Fiesty Icon. She is getting set to return to riding after suffering a broken collarbone in late winter and OR caught up with her to find out some fun things about the Richmond Hill, ON resident.
1 – How many tattoos do you have and what do they depict?
CF –  I have three tattoos: One is a horse and jockey/word combo that reminds me to never give up on my dreams, another is a racehorse in watercolour just because I like it and the third is dream catcher for my nana. The dream catcher has a hummingbird and roses for her and it's a dream catcher because of our native background.
2 – What is your favourite snack?
CF – That's tough! I guess right now I've been snacking on almonds. I grab a few whenever I pass the container of them. I'm trying to be healthy (LOL).
3 – Who would play you in a movie? or who would you want to play you in a movie?
CF – Well, I really respect Jennifer Lawrence as an actress and I think she could probably play anyone. So I guess I would want her to play me.
4 – Do you have a pet peeve – something that really drives you bonkers? 
CF – My pet peeve is being late. I am almost never late for things and it drives me crazy when other people are late. Or if people take forever to get ready to go somewhere. I am unusually quick at getting ready to go places. I hate sitting around waiting for people to be ready to go out.
5 – Which do you prefer: TV shows, books or movies? 
CF – Books, I've always loved to read. There's not much that tops getting into a good story.
I just finished City of Heavenly Fire (by Cassandra Clare)